Happy? Sad? Annoyed? Tired? Angry? Excited?
Asking this question is always a part of Monica's class and each student is given an opportunity to express what they feel. At first I thought it was just a routine in the school just so kids will be trained to converse. But it's only recently when I realized and appreciated what it really means. Acknowledging our feelings is very vital especially nowadays. Kids feel different emotions and we should label each one of them. They are free to feel anything and they should be able to express it. This is why I love Monica's school; it's not just Monica who learns, but me as well.
And as we acknowledge our kids' emotions, let us not forget ours, too. Let us not forget to label what we feel and let us not take it as lilipas din naman ito. We feel it as we go through it.
Last Saturday, I got to attend a webinar conducted by Monica's school in collaboration with Mindwell PH. It was so timely as it discussed Parenting Challenges in the New Normal. I know a lot of us are having a challenging time and as the speaker, Doc Maria Lourdes Medina, mentioned, PARENTAL BURNOUT is real. It is really happening.
Here's a part of her discussion, credits to GVS photo:
If you feel exhaustion, fatigue, anxiety, depression, frustration among others — then it can be really a sign that you are experiencing Parental Burnout. And when we feel that, it's just right that we shift our focus and look after ourselves. Doc Lou knows that it's not easy but she suggested a different way on how we can look at things. She reminded that we should prioritize Self-Care to avoid Parental Burnout.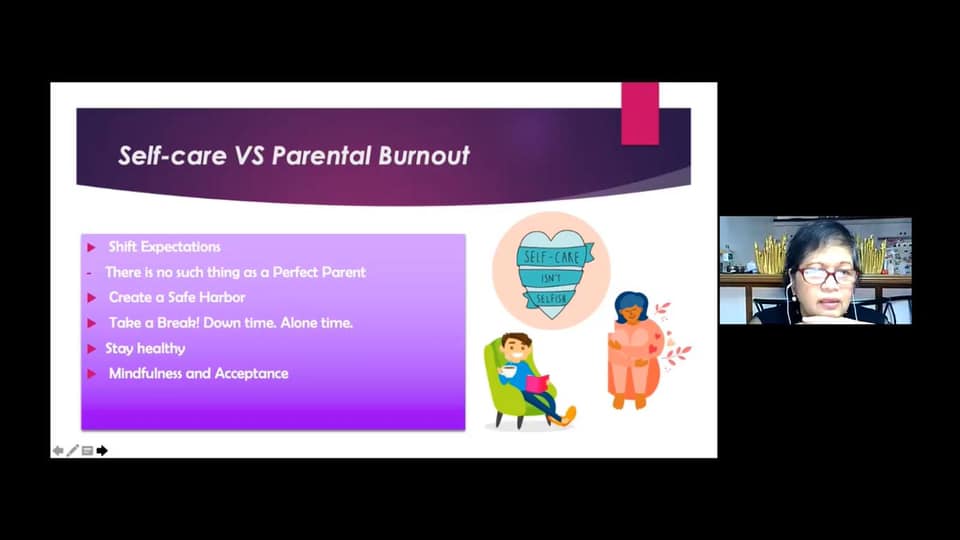 I cannot agree more on all the points discussed. I kept nodding on each word Doc Lou mentioned. Then I asked myself, how am I really doing these days?
Honest to goodness, I feel okay. Fortunately, I don't feel the parental burnout yet (hoping I won't feel it lol). I did a self-check as to why I am doing okay and here's what I came up with:
I allow bad days. I don't try to have it good everyday. Whenever I feel bad or annoyed when things don't go as I wish, I show it. I let it out. Beejay and Monica know this side of me. They, too, are allowed to have bad days as well.
I give time to myself. Whether it is a 5-minute lock out in the bathroom, a few minutes of watering the plants, an hour of workout, late night Kdrama marathon, random social media tinkering, naps, and a lot more. I recognize MYSELF as the first person to think of before anything else.
I never aim to be the perfect parent or to be the coolest and nicest mom. Monica needs a happy mom, not a perfect one. If we keep pushing to be perfect, we will get tired. And the more we get tired, the sooner we'll give up. We cannot afford to give up.
I don't intend to raise a perfect kid. Monica is allowed to see us getting mad or sad — she knows emotions like these exist. Therefore, she is allowed to feel mad or sad and even have mistakes, too. She is given time to play and explore on her own. We don't control. What we have is a routine and that includes her freedom to nourish her interests and likes. I guess this is why Monica has been doing okay as well. Yes, more kulit but so far, no meltdowns, no tantrums.
These are the things that work for me. As cliché as it sounds, I want to say, "it's okay not to be okay." We have different circumstances and setup. I may have it easier than others that's why I can chill, but I hope that telling you to allow bad days will help in making your days a little better. ?
Sending you love and light even on bad days.
Din♥️
Please follow and like us: