Pre-pandemic, I was already happy with my weight — all thanks to Low Carb and Intermittent Fasting (LCIF) way of life. Because of this lifestyle, I was able to lose 11kgs and maintain a 58kg body with no exercise or any physical activity at all. So I said, it's all in the food intake (which is really true naman).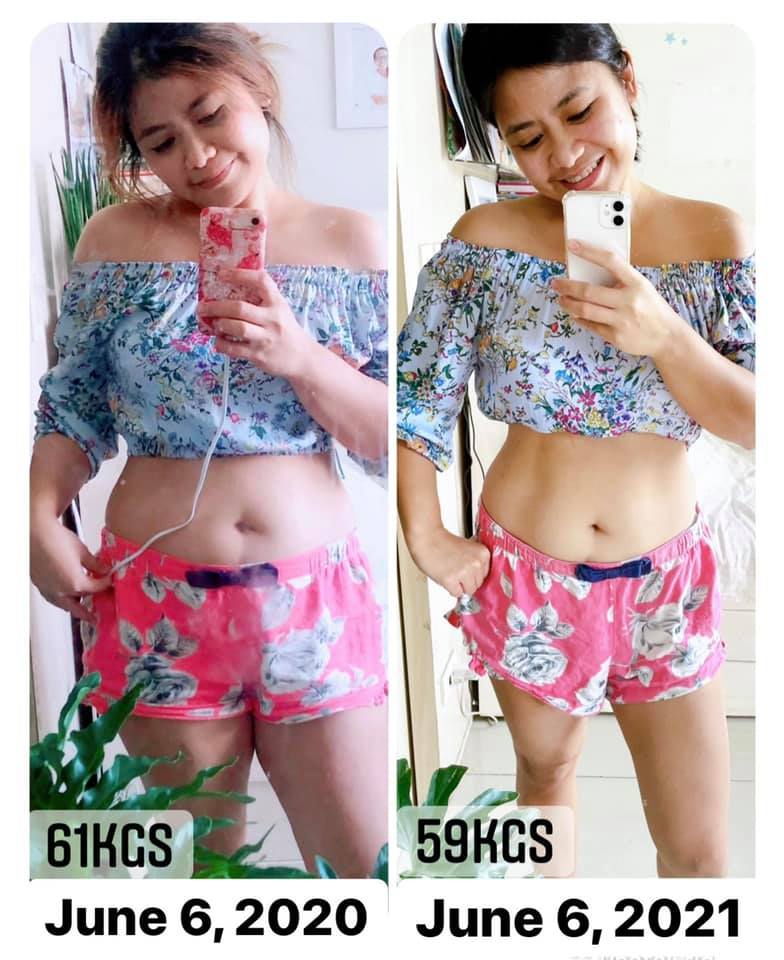 Then lockdown happened. Ube-cheese pandesal, dalgona, cinnamon rolls, and everything else happened. I gained 4kgs in just a few months, went up to 62 kgs around July. I felt anxious, moody, tired of this pandemic, heavy. I was not feeling good about myself. That's when I tried working out — thanks also to my momma friends who kept posting their daily workouts. Sabi ko pa "ano ba itong mga ito, exercise nang exercise. Nakakapagod." Pero nood naman ako nang nood; before I know it, naimpluwensyahan na akong gumalaw. Hahaha. Shout to April, Shella, Marie! Hahaha.
At first I was doing yoga, following Youtube workout videos; but I found it too boring. I can't keep up. I swear I can't finish one full workout no matter how short it is. It's true, different strokes for different folks.
Good thing, we were organizing our little condo that time. I found my old jump rope (the one I used as warm-up for boxing back in 2014) and tried jumping.
My jump was too high and heavy, form was bad, and all I could do was 50 jumps a day. But I found this movement interesting. Why? All I needed was a jump rope and my will to move.
Then I set a goal of 100 straight, then 1000 skips a day. It made me happy and want to skip everyday. Then I reached 3000 per day. I was so happy jumping to different songs. I would allot one hour a day just to jump. A friend suggested for me to learn tricks. Good thing, our condo allowed residents to go to the amenities area already. Took my chance and that's when I started learning (albeit slowly) tricks.
On my 3rd month of jumping, I decided to buy another PVC rope, this time from JUMP MANILA. And wow, this totally changed the game. I know because we also bought cheap ones from Shopee and oh my goodness, tangled agad isang jump pa lang. Haha. my first JM rope was the 2.0 – it was perfect. Swings became better, tricks came in one by one. The quality of rope is just too good, not to mention, affordable too.
Sharing with you my ropes — so far I have 3 PVC ropes, 1 Heavy PVC 1/2lb rope, 1 soft beaded rope (All from Jump Manila. Beke nemen charot!) and 1 beaded rope from The Jump Shop PH (it's a customized rope from The Jump Rope Coach Chris!
For a beginner like me, getting a very good rope is the key to maintain consistency. Syempre pag feel mo yung rope, gaganahan ka diba? Hence, mas malaki chance na mag-improve. With regard sa tricks, I honestly cringe looking back at my old videos. I thought I was doing good before but NO. Haha. We all start talaga looking like a fool but with jump rope — there's so much to explore and improve on. I no longer count my skips nor calories burned. I just enjoy every move; unlocking tricks or not.
From then on, I would jump 5-6x a week, drills on drills. Some days I am unlocking new tricks, other days, I am not. Some days, it takes me hours to learn, other days, it takes me weeks. I just keep pushing. Yes I get frustrated when I can't unlock but I keep reminding myself that my jump rope journey is mine alone — and I am not in a competition with others. Soo here I am, approaching my 9th month into this journey. Still a beginner, but definitely a happy learner. ?
From this:
To this:
Little by little, I saw and felt changes in my body. It became easier to move, easier to accept what I see in the mirror. I still eat what I want – chips, bread. No rice for me (since I am used to it already), but I am not depriving myself of carbs anymore. I still do Intermittent Fasting, 16-20hrs depending on my mood. Lost my quarantine pounds but weight plateaued at 59kgs. They said it's because I gained muscles. Not bothered with the weighing scale anymore because what's important is how I feel and what the tape measure shows. Hehe. Lost inches in my waist and thighs so who am I to complain right? Eating what I want, sweating almost everyday. Win-win.?
Tips:
▪️Don't mind the weighing scale too much, measure your body instead.
▪️Watch what you eat.
▪️Find time to move and sweat. Find a workout that suits you. No excuses.
▪️Focus on YOUR progress, big or small.
Left photo: Takot sa carbs and doing 16-18hr IF; no movement, no exercise; full of "sanal all", "ang sipag naman nya magwork-out", "ano ba yan wala akong time"
Right photo: Hindi na takot sa carbs and still doing 16-18hr IF; daily movement, daily jump rope; no more "sana all"; full of jump rope tricks to explore
Please follow and like us: