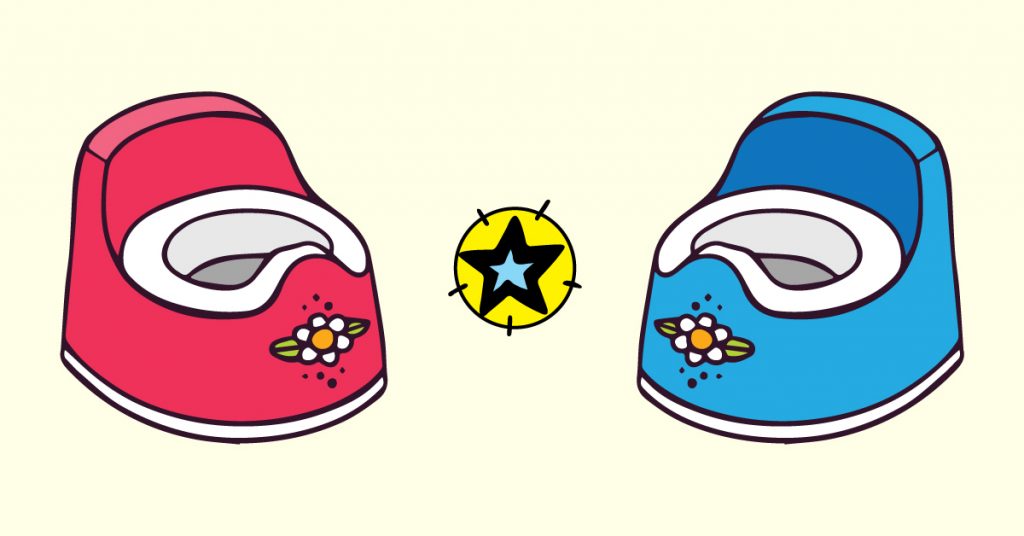 Monica got potty-trained overnight. Well almost. For real.
Ever since Monica turned 2, I've been hearing comments saying that "oh naka-diaper pa rin ba sya? 2yo na ah. Dapat hindi na." To which I will always answer with "Okay lang, ayoko mastress kami parehas." My mom was one of those who kept on insisting that 2-year-olds should be potty trained already. I get it, she meant well for sure. Haha. But lagi ko sinasabi kay Mommy na antayin ko na lang maging ready si Monica.
Back in the day, kids get potty-trained pretty early just so they can save on diapers. Ngayon, because of Lazada sale (LOL), hindi namin issue ang Pampers. I'd rather spend than get stressed everyday. #SaTrueLang haha. You all know that we don't have a helper nor yaya, Beej works almost the whole day, so that only means na ako lahat maglilinis at maglalaba kung ma-wiwi or ma-poops si Monica sa bed or floor diba? In short, I don't like another chore. Ang convenient ng diaper, especially Pampers, very hiyang si Monica dun, bakit ako magdadagdag ng sakit ng ulo ko diba? Haha. I know my temper, it might get in the way and ma-trauma si Monica. Haha. So I stood firm and did not let the comments pressure me to train her.
So I just kept on waiting, I would tell her "Oh let mommy know if you want to wiwi okay?" or "So here's where we pee and poop" but never really taught nor trained her. In my mind I know she will do it when she's ready. Then the morning of April 19, Monica woke up not wanting to wear her diaper anymore. She immediately asked me to remove it and peed in the toilet. She's 2 years and 9 months then. All of a sudden, she's almost fully potty trained and it was me who's left shocked and not ready. As in ako ang hindi ready. I was like, huh are you sure? Nakuu baka magkalat sa bed.
That day, we went to a party and I insisted to put a nappy on. She agreed though hesitant. While she was playing, dancing, she went to me and said she wants to pee. I told her she can pee in her diaper. She said "No mommy, I want to pee in the toilet," OMG. Okay so I brought her to the toilet and she peed. The night came and I was still worried she will pee in bed so I had to put another nappy. The next day, she woke up with a dry nappy, no trace of pee and then she went to the bathroom and peed in her potty trainer (a gift given by my mom looooong time ago).
That's the second day, totally diaper-free the whole day. On the 3rd day, I bravely decided not to put on diapers. She peed in bed around 12mn – I was like, okay not so bad. Not bad at all. On the fourth day, she said she wanted to poop and there she went, pooped in the toilet!
That day I decided to bring her to the mall, just the two of us. I wanted to see how it will go kung wala syang diaper. I brought a nappy with me in case need arises. Haha. So in the middle of fitting clothes, window shopping, twice sya nagsabi na maiihi sya. Yun ang stressful part – yung feel na feel mo na magsukat at bumili pero kailangan nyo maghanap ng CR! Kaloka. Pero to cut it short, it was a success! Whew. Good job anak!
Then for two weeks, I will wake up around 12:00-12:30 am just so I can bring her to the toilet. For two weeks, there's a hit and miss and that's normal. Puyat nga lang ako but then after two weeks of her being nappy-free, she learned how to control her bladder, it got more stabilized as days passed by.
So what did I do? NOTHING. See, wala akong ginawa, I just waited for her to be ready. That's it. She did it all on her own. She even goes to her potty trainer and pee, she will wash her hands after, and wear her panty – again, sya lang mag-isa without me teaching her.
What makes me so happy is that we didn't have to be stressed about it. We didn't even have to buy fancy potty-training tools to entice her. If I wanted it my way, I could have forced her and that will probably leave her traumatized or worse, will hold her pee and that's not okay! It really pays to wait for your child when he or she will be ready. Kids have their own pace and we all should consider and respect that. It will save us some stress and trouble.
I cannot stress enough how important it is to wait for the kids to be ready. They know better and if we do it that way, it will be easier. It will also make them confident and feel that they have autonomy over their body and their feelings. Who would want to be forced anyway, right? I have nothing against parents who want to potty-train early – that's perfectly okay. It's just that, in our case, the other way worked just fine.
Here are the things that we've been doing now that she's nappy-free already:
I time her liquid intake, usually she will pee after an hour (at least on the first weeks). So I make sure I time it and remind her if she wants to pee. Normally I do this but at times, she will tell me when she wants to pee or poo. Nowadays, she can control her bladder already and pee every 3-4hrs, except pag nag-buko juice! Haha
At first, I joined her in peeing and made the pee sound. But now when she wants to go to the CR on her own, I let her. I just remind her to be careful especially when floor is wet.
I affirm her, I validate her actions. Her face lights up when I do that. It's such a feat for them and they deserve such recognition!
Try going out without a nappy on, it will test the both of you. Don't be scared. I swear. Only then you will both know what to do next. We traveled to and from Batangas via bus, without nappy on. Imagine my stress but then again, I trusted her and pull it through. No wiwi accidents! Hahaha
To this day, June 14, almost 3 months of zero diaper, and I can say things are so much better. We only had less than 10 accidents total and it's all because we let Monica take her own sweet time. <3
What is your potty-training story? I hope our story helps! 🙂
Love,
Mommy Din