Wow big words. Let me just put a disclaimer onset – I am, in NO way, an expert in parenting. I only have 3 years of solid experience plus I don't think anyone can be called an expert because parenting is a life-long hit and miss. Always a work-in-progress.
So when Dette Zulueta, founder of @millennialmomsph, asked me to be one of the mommies who will share for the MMPH segment in #MommyMundoWorld3, I got so excited and nervous. Like, anong sasabihin ko diba? Aside sa shy type ako, hindi ko sure if may maii-share ba akong worthwhile. Haha.
I, together with Dette, Ley, Doc Gellina, and Kalai, wholeheartedly shared our tips and tricks about parenting. Such an honor to share the stage with all of them!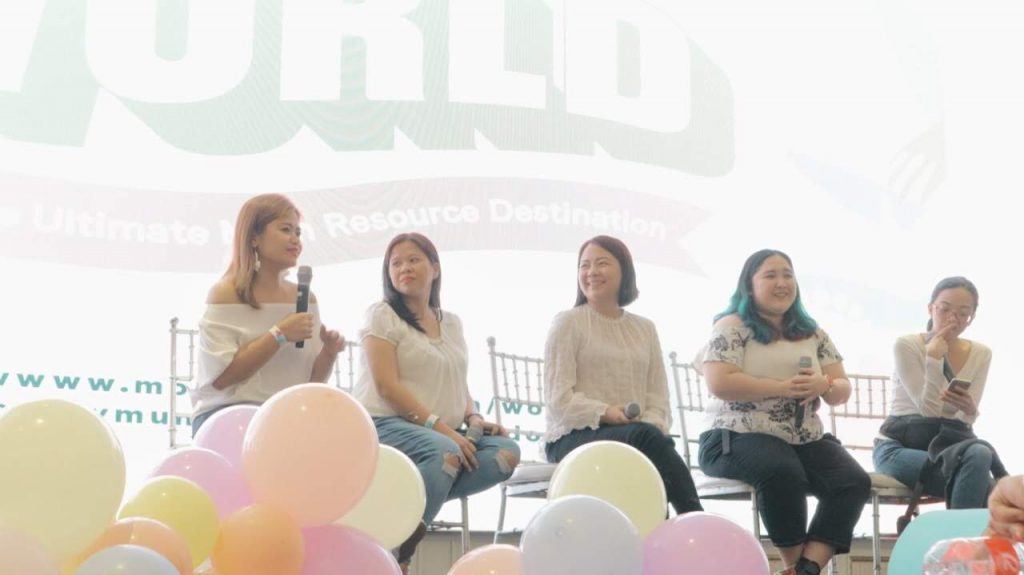 So here's what I talked about:
PARENTING HACK I SWEAR BY:
I answered just one but there's actually two I want to share:
CHILL. Relax momma! Chill lang momshies. Hehe. I know it's easier said than done and I don't think moms can really chill, but hey, we need to breathe, too. Motherhood is already chaotic, will it help kung lagi tayong stressed?
What I meant by chill is, let's try not to over-worry or over-think. Pero syempre, if being an "OA Mom" does not stress you out, that's completely fine. On the other hand, if thinking too much about, let's say the food that your kid should eat, the toys your kids should play, etc, brings out the monster in you, then time to pause and think. Time to chill. Are you the type who can't let go? Like palagi kang nakabantay sa anak mo? I am not. Are you the type na palaging punas sa katawan at kamay? Or sanitizer every minute? Or linis every hour? Haha. I am definitely not like that. Simply because, it stresses me out. And when I am stressed, it's gonna be worse than the effect of Monica eating dirt. Lol.
Plus a mom has already 100000 things on her plate each day, so we deserve to have a breather every now and then. If have to check on every little thing, mabubuang tayo. Remember, our child needs a happy mom the most. <3
WAIT FOR YOUR CHILD, STILL, CHILL. FOLLOWING THE LEAD OF YOUR CHILD. I always keep in mind that I should follow her interests and not mine, wait for her time and not get pressured. Follow what she wants and not what I want. Haha. Hindi ba obvious that all I want is to chill? 😛 What do I mean by this?
I mean, just stay put and let your child be a child, a baby. Don't rush things. They are only little once and it won't help if we will insist things to happen our way. Iba-iba naman ang bata. Hindi porke't nangyari sa anak ng kaibigan natin at a certain age, ganon rin ang anak natin. Syempre wala namang bata ang parehas. Like my story on Potty Training . I just waited for Monica to be ready and then when it happened, it's better than what I expected. Normal lang naman na umasa of course, pero what I find not helping is, if we pressure ourselves and our kids just so we can say that we are on time or even ahead. Stress yun.
Another story I wanna share is, yung pagsusulat ni Monica. I actually felt she's a bit late in writing. After all, hindi naman sya super galing kumain and hindi rin BLW so I know hirap sya how to hold a pencil or crayon and doodle. I thought oh no, late sya. But then I didn't let that thought get into me. And hello, 3years old lang sya. Hindi naman pwedeng hindi sya matututong magsulat lol. So I waited. Few weeks ago, she started showing interests in doodling so I just gave her materials so she can practice. One day, I witnessed her drawing a person, not the stick version like what I do haha! With eyes, nose, etc. Imagine my surprise and happiness! I thought to myself, had I forced her to write, I wouldn't probably feel that delighted and she would not have enjoyed the process as much as she did.
I swear and stand by my hack: Just chill. Parenthood is chaotic and messy, but it is also beautiful so let's all enjoy it. <3
CHALLENGES I FACE AS A PARENT
Every day is a challenge to be a better mother. There are days when you just wish you are not one. That's true. No matter how much I love being a mother, there are still days that I wish I am still my old self. But then reality kicks in and I am a mom who is privileged to raise a kid.
In my 3 years as a parent, with no helper and no relatives nearby, I have encountered countless challenges already. Feeding Monica, putting her to sleep, cleaning the house, sickness, and many more. Those are valid ones and it really happens every day.
But there's one thing I consider the most challenging. How to toughen up Monica. I guess all parents want all things beautiful for their child. Who does not want the best life, right? While I see nothing wrong with that, I think it's a potential downside in the future. In the video clip below, I explained how we, as parents, only want good things for our children. Pero syempre, we cannot always do things for them. Even if we want to make things easy and simple for them para hindi sila mahirapan, we can't and we shouldn't do it. Otherwise we are not helping them at all.
In this generation, it's a challenge for us parents to make sure we raise strong and kind individuals. After all, sila ang mahihirapan pag wala na tayo diba? And I don't want Monica to be sheltered. I don't want things all easy for her. She won't learn from it. If that is not challenging enough, ewan ko na lang.
Do we share the same thoughts? 🙂
Hope you learn something from this. Super thank you to the amazing #MommyMundo team for coming up with events like this. Truly #TheUltimateMomResourceDestination <3
SPECIAL MENTION TO MY FRIENDS WHO CAME AND SUPPORTED, EVEN DOCUMENTED OUR TALK – Shella, Akira, Seyrah, Alfie, Vianne, Miles, Cherry in spirit, Irene, Iam, and Lara, and the whole mommy community who cheered us on!!! Love you all!!!!! <3 #NAKS