Those who have known me from way back would attest that I have always been in the heavy side, I was never slim. And I was fine with that, used to it perhaps. It's genetics and I always blame it to my big bones. Lol. That's okay because growing up, I was never made feel that it was bad. My mom and dad would even tell me, 'hindi bagay sa'yo ang payat," And I believed
(Adulthood and) Motherhood happened. I was at 64kg before getting pregnant – probably my heaviest at that time. I barely fit in my clothes and I remember not feeling so right. So when I got preggers, I knew I should watch my diet and weight gain. While I know that eating is important to grow the baby inside my tummy, I made sure not to over indulge. It was successful as I only gained more or less 6-8kgs (because of the vomitting and all). I was at 72kgs full term.
Gave birth and as expected, losyang ang peg. Haha. Hindi naman ako artista at hindi rin ako blessed with slim figure so nganga. :-p Again, it was fine. Breastfeeding will make me lose weight, sabi ng 7/10 na nanay. I believed them. I ate everything I wanted only because LAGI AKONG GUTOM. Every after breastfeeding gutom ako agad. My weight was stuck at 66kgs. I was okay with that plus Beej has always been reassuring that it doesn't matter even if I am chubbier. What a husband. Haha
For almost 2.5 years, my weight has always been 66kgs. Nasanay na lang ako, again I can always reason out na I am breastfeeding. Pero syempre lumalaki na si Monica, she would only feed for comfort and not because she's hungry.
Around March 2019, I weighed in and to my surprise, I reached 69 – 69 kgs!!!!!!! Whaaaaat? I can't believe it (well, kain ako nang kain so not impossible haha). I cannot accept it. I told myself I will start my diet once I am done breastfeeding but that moment I said, I HAVE TO DO THIS NOW. Thankfully, I talked to my mommy friend Jen who proved that the KETO DIET worked for her. Same story with another mommy friend, Iam.
I told Beejay that it's about time I focus on myself – he agreed and supported me. I ordered Keto meals from @ketogenicmanila (Php 2750) for two weeks. I was semi-strict because I still cheat on weekends. My weight dropped to 66kgs after 2weeks. I tried another one, @deardietph (Php 2250) and my weight stabilized at 65. So so happy! I got used to eating lowcarbs. I also did intermittent fasting, meaning I fast for 16hrs then eat within the 8hrs window time. Fasting meaning, I only drink water in those 16hrs – nothing else. No calorie intake at all.

Here's how I lost 9kgs (dami kong intro sa taas hahaha).
Disclaimer: JUST BECAUSE IT WORKED FOR ME, DOES NOT MEAN IT WILL WORK MAGICALLY FOR YOU AS WELL. ALSO, I DON'T RECOMMEND THIS TO BREASTFEEDING MAMAS (2YRS OLD AND BELOW) OR TO SOMEONE WITH HEALTH CONDITION. Please patis, wag ako i-quote. K? 🙂


After 3 weeks of ordering and eating Keto plan meals, I decided to just create my own meal plan and do Intermittent Fasting. I was off to a good start as my weight went down to 65kgs already.
I would ALWAYS ALWAYS check the label – check carbs content either in the nutritional facts or in Google. I seriously learned to check everything first. The key here is to be mindful of what I put in my mouth. For you to lose weight, you only have to consume less than 20g of carbs daily.
I gave up on rice, bread, pasta, chips, sweets. Sad? Not really. Before I would eat one pack (or two) chips every single day – I would tell myself na reward ko yun kasi nakapaglinis nako at napatulog ko na ang bata. While watching Netflix, chips galore si Momshie. Ayun, tumaba haha. Imagine, a pack of chips has 13-17g of carbs! Imagine that. A small cadbury yata, like 3 squares have 10g of carbs. And 1/3 cup of rice has 13g of carbs agad. SO DO THE MATH. This way I got really conscious of what I eat. It helped me a lot.
Wala ba akong cheat day? I do! But in moderation. Ayoko naman maging KJ for life. Konti na lang as in. And we seldom eat out na. Hahaha. Panay Samgyup na lang, syempre meat yun eh. Haha.
What do I eat and what time do I eat? On a regular day, I will break my fast or start eating around 9-10am. I would eat pork chop or bacon or omelet, black coffee with Stevia natural. Then I will eat around 3pm na ulit, anything meat. I don't care about the calories, as long as carbs content is not high. Be careful with fruit diet, madaming fruits mataas sa Carbs especially banana and kamote, so ingat lang. Akala natin diet na tayo kasi fruits pero mataas content so wit na. Last meal would be around 4pm. Tapos na kain ko nyan. Paano si Monica? I feed her regular food syempre. Hindi sya kasali sa diet anoba. Hahaha. Si Beej naman, support sakin, does not eat dinner at home na. Nagpapayat na rin. Hahaha
Do not ever start this if you are not 200% ready, otherwise you'll just burn yourself with soooo many excuses and the beautiful effect of Low Carb + Intermittent Fasting won't work. It worked for me, for real. My weight plateaued on the 3rd month to 59-60kgs. Maybe because I am now in the normal level of my weight, my BMI is now at 23ish from 27. But I am keeping this lifestyle. It's very doable and to be honest, my milk supply was not affected at all. Yahoooo.
I am all for body positivism, but feeling so heavy did not make me feel happy – I was always moody, I get really sad when clothes don't fit and at times I would look in the mirror and say "ang taba ko!" Monica would hear it and that's what I don't want. I want my daughter to grow up confident and happy with her body, so I have to start modeling it for her. I wouldn't be able to do this without the support of my amazing husband. Ayun, mas malaki na pinayat sa'kin, competitive eh! HAHA. Love you baby.
So there. I am really happy and a lot has been asking me about this already so here you go. <3
I hope you get inspired with this. Let me know okay? You can like, comment, and share if you think this will be helpful <3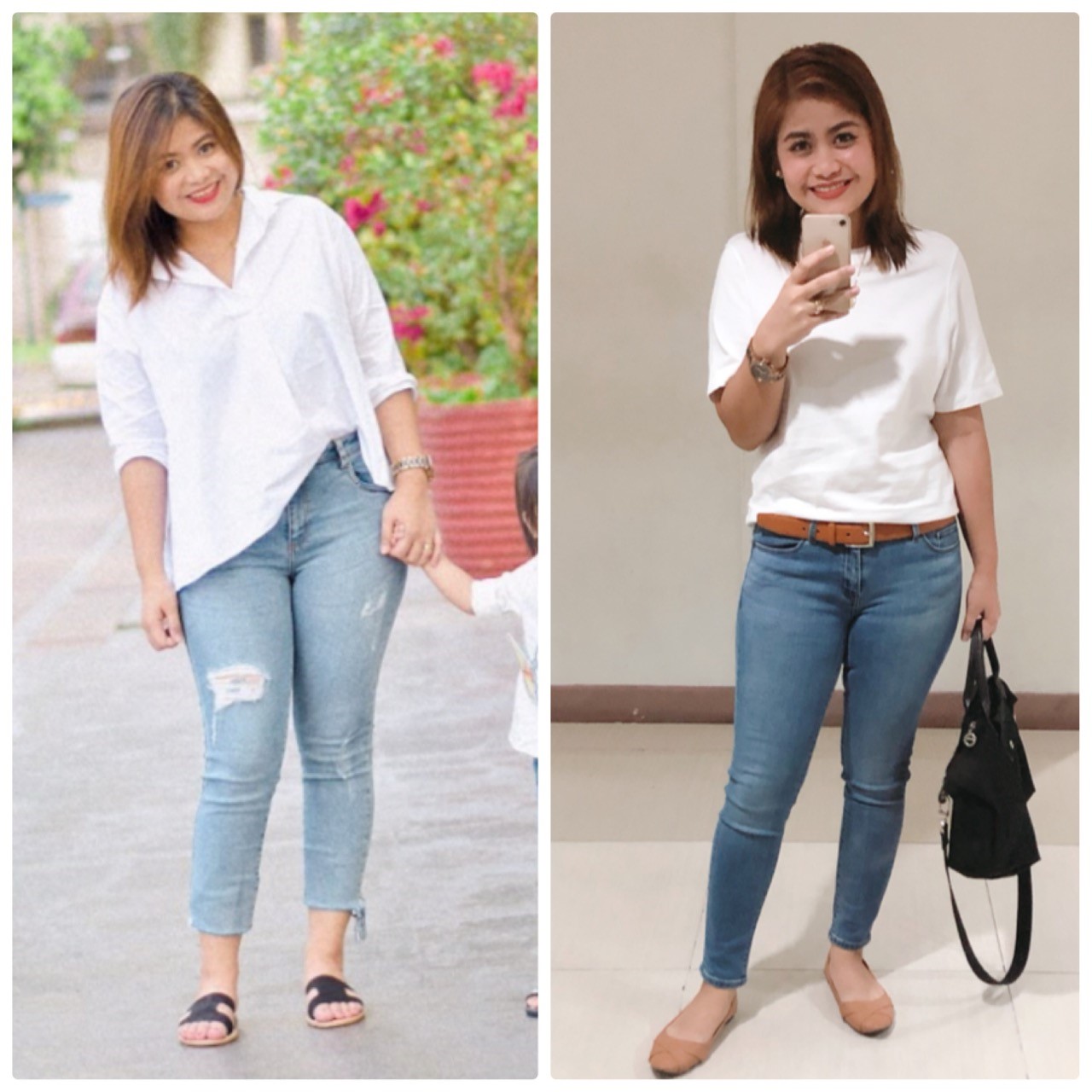 Love,
MommyDin