I never had to really focus on baby wipes until I became a mother. Pre-baby, wipes are something I can totally live without haha. Post-baby, OMG, wipes are something I should not leave the house without. For real. When you have a baby, you can go and do whatever if you have it in your bag. It's basically, an answer to anything! From an infant who pooped, a toddler who touched anything she sees, a sweaty child, nasty little face, hands, unsanitary high chair and table, to a stressed parent who has dirt all over because of his/her kid! Haha.
It's a given, we NEED it. But do we settle with just knowing how important it is? No right? As a mom, especially when it comes to your baby, there should be no compromise, as they say.
I am not a meticulous mom, well, at least not yet. Probably because I am not a maselan type of person. But of course as a mommy, all I want is what's best for my baby. So whenever I see a baby product that says organic or natural, it would be instinct to get whatever that is.
For a loooong time, we've been hoarding an organic type of baby wipes, thinking that it's safe and natural. And boy we were wrong! It really pays to read the label!
Thanks to KinderCare Ultra-safe Baby Wipes! I learned that products that say "natural" don't mean 100% natural. It still has chemicals that can be harmful to us and and our little ones. What we have to check is the tag "All Natural" because that one is guaranteed to be really legit.
With KinderCare Ultra-safe Baby Wipes, the tag line "All Natural" holds true as they have ZERO harmful chemicals: zero parabens, zero phenoxyethanol, zero methylisothiazolinone, zero synthetic fragrances, zero lanolin, zero SLS/SLES and zero alcohol.
Wow big words. I know. To those who know me, you will say, ako ba'to? Am I really that particular? With this one, I'd say yes. Especially now that Monica is a toddler already. I remember seeing a viral post on Facebook about a kid who suffered severe rashes on face and body because of baby wipes – that alone terrified me, verified incident or not. So better be safe than sorry, right?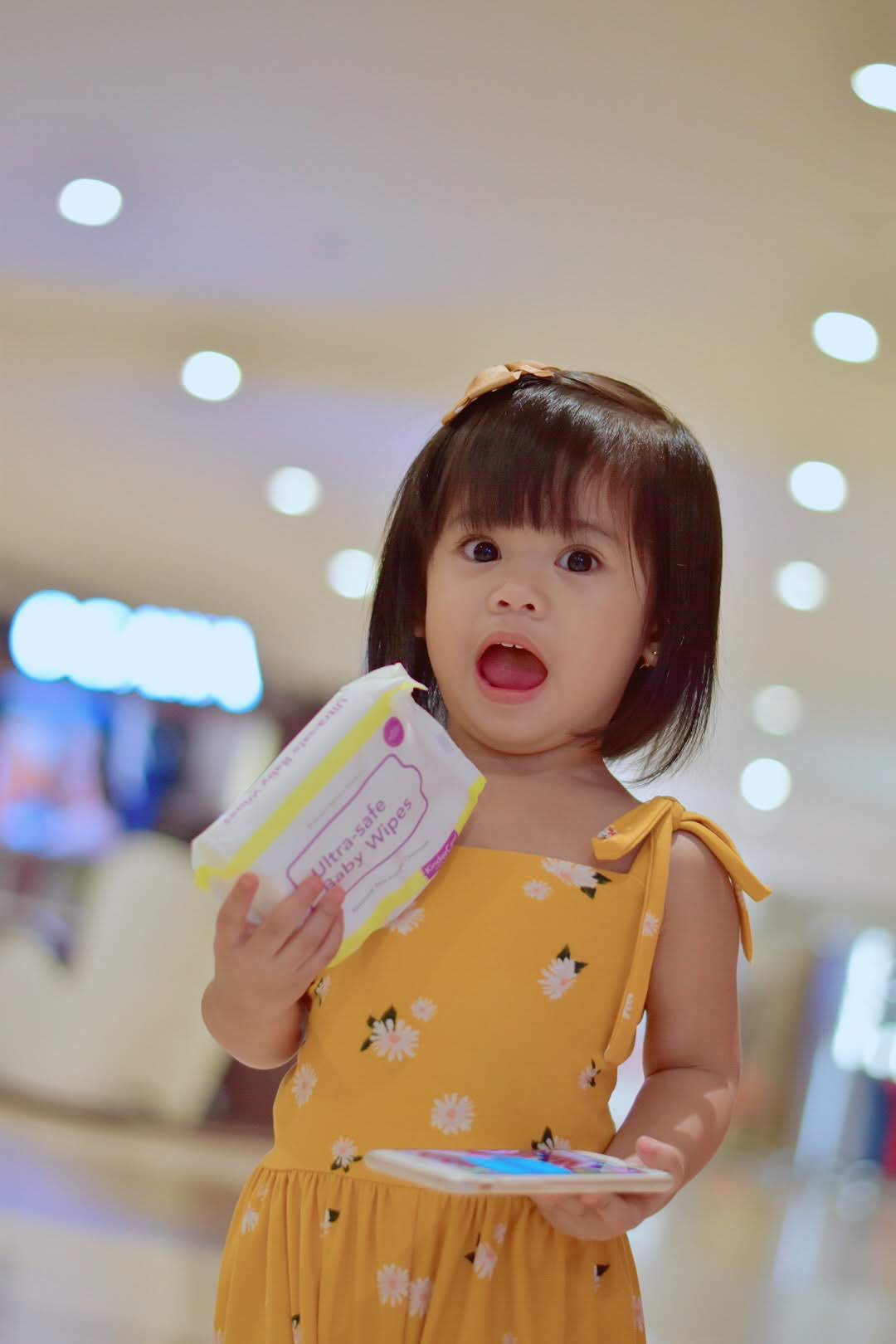 Why settle for anything less when the best is just within reach? I strongly urge my fellow parents to try this out! <3
For those asking, here's the price range and the stores we can get this from (I know I know, if there's one thing we can complain about this brand – SANA NATIONWIDE, ALL LEADING SUPERMARKET AND DRUG STORE AVAILABLE, right? Haha. But in the meantime, here's what they've got: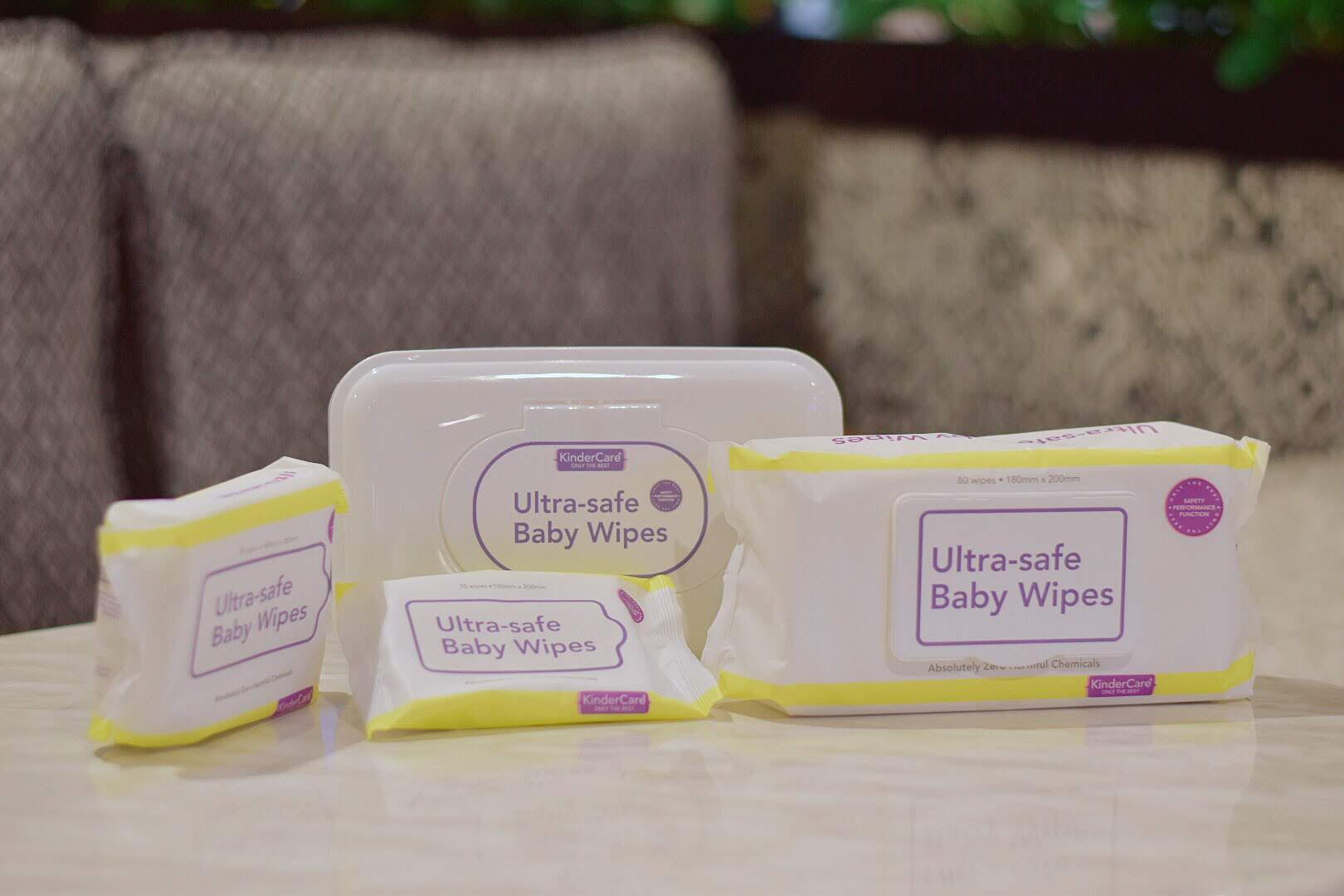 Kc-324 wet wipes 25's – Php 69.90
Kc-325 80's – Php 129.90
Kc-326 w/ plastic cover – Php 139.90
Kc-327 w/ tub – Php 219.90
Kc-328 10's – Php24.90
Online exclusive of a pack of 6 80's wipes – Php715 plus shipping fee.
Shipping fee: Flatrate of Php 180 for Metro Manila and Php200 for provincial.
Here are the list of stores where KinderCare is available in Metro Manila:
Robinson's Department Store Ermita
Robinson's Supermarket Ermita
Robinson's Supermarket Otis
Robinson's Supermarket 168
Robinson's Supermarket Cloverleaf
Robinson's Supermarket Pioneer
Mart One North Edsa
Metro Market Market
Ever Commonwealth
M1 Guadalupe
Sta. Lucia Department Store

NOTE: I AM NOT IN ANY WAY AFFILIATED WITH THEM, JUST ONE MOMMY HELPING OUT ANOTHER. I AM SO GRATEFUL TO BE GIVEN A CHANCE TO TALK TO THE MAKERS AND I WAS SOLD. REALLY. THANK YOU KINDERCARE!